toastbox is a singaporean chain which offers kaya toasts and kopi and other singapore food items. i was awake for more than 24 hours already and was itching to get home when i heard my stomach grumbling. i wanted to eat something light and toastbox just popped in my head.
i finally settled with one of their new toasts which has mahu or pork floss (i love pork floss).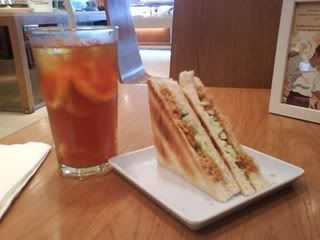 the bread was well toasted, it has strips of cucumber, mayo and pork floss. but i don't think it's worth my 55 PHP. also, the iced tea was overpriced at 65 PHP. if you're thinking about the value for your money then i don't think you'll get it here. but i will be coming back because i ought to try their singaporean noodles.
toastbox
trinoma lobby