what's ueshima coffee co.? it's popularly known as UCC. i was really wondering what's the buzz about this coffee shop. people say that this coffee shop/resto serve good food as well. they serve unique and expensive coffee blends which i haven't tried. but i promise myself that soon i will. anyway when i went there i had to try the famous seafood salad. i read it in one of the newspaper articles and i just had to try.
this was just a half serving. you can have the salad split into two if you need to share it.
the smoothies collection was also tempting so instead of having hot drinks we opted for these. choco banana and orea smoothies.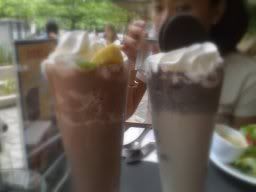 the salad was superb...it has tempura, fried scallops, crabsticks and ebikko, it was really a seafood feast. we also had this burger with curry something. i must admit it didn't go well with the salad but the humongous patty was really tender. but of course i ought to try their coffee soon. the recommended ones are the royal european coffee (170+) best with coffee sugar (as my friend always reminds me) and the jamaican blue mountain (there are two variants the cheap and more expensive one).
it was a great meal i didn't regret burning a hole in my pocket. every foodie ought to try this place especially the seafood salad...superb!
additional food items at ucc.
fruit parfait
banana toasts - to die for! perfect breakfast meal with a cup of coffee
royal european coffee my perfect cup though i still have to try the jamaican blue mountain...don't forget your coffee sugar and milk
ucc
paseo center
rockwell
timog
sm the block