a couple of blogs ago i said that i had a change of heart regarding japanese food. as such, when i saw the
red kimono
on TV my heart just simply leaped...that's an exaggeration. but i had to call my fellow foodie to try the place. actually this is a make or break for the credibility of a particular tv show. we've tried some of their featured restos and we weren't impressed. so after a couple of weeks we eventually found the time to go there.all i can say is the meal was great except for the sake which i'm not gonna try out again.
we had california crunch which is california maki coated with batter and deep fried. we also had crunchy ebi maki which was just ebi maki rolled on crispy japanese bread crumbs. the sizzling tofu was also great (being tofu fanatics) and the mixed kamameshi was also great. and to top it off we had ice cream tempura which was basically fried ice cream. the meal was superb and it was worth it.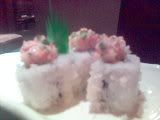 crunchy ebi maki

speaking of makis. i had dinner the other night in
cascada
and thanks to my friend who ordered deep fried maki i did not miss out on one of the best makis ever. unlike the one i had in red kimono this one was served without the usual soy sauce and wasabi but just drizzled with a mango and balsamic sauce if i remembered it right. anyway too bad i forgot to take pictures. the place is quite pricey, not sure if it's considered fine dining. but the food was great so i guess it was worth it.