nothing can top this...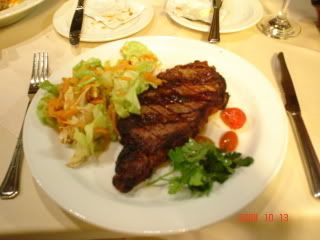 one of the best meals i've ever had. bife de chorizo served with fresh salad made up of lettuce, prosciutto, cheese, carrot strips with red wine vinaigrette and a glass of red wine. sounds classy? it sure is, but it was definitely not expensive. all i could remember was that the steak costs around 9 argentine peso...roughly 180 philippine pesos so the entire dinner probably cost less than 500 PHP.
there's a place in buenos aires called puerto madero and it's a strip of red brick buildings housing the finest restos in buenos aires. starved with only having eaten empanadas for lunch (yes it's supposed to be a complete meal in argentina) my officemates and i headed to this popular spot in town. we didn't know which resto to go to so we just picked out
la madeleine
at random. armed with a bit of spanish i made sure that they will serve us a well done steak, i was a bit wary since having it well done might jeopardize the tenderness of the beef but i don't know how to say medium well in spanish. we anxiously waited for our steak while munching on some bread and butter. i was a bit worried since only a few people were dining at the place but it was only around 6-7 and dinner time usually starts at 10. finally it came, and we just couldn't believe that it was well done and yet was so tender. i could not explain it but it seems that the beef melts in your mouth. the meat is all brown (well cooked) but it was still tender. it was probably because of the way they cooked it, the grill marks somehow made it crunchy but the inside was still tender so the instense heat probably locked up all the juices. it was really divine.
you might say that it goes the same for all the restos in buenos aires, after all, they are known for their beef. but nothing came close to the steak at la madeleine. we've eaten in a lot of restos in buenos aires but nothing was comparable to la madeleine's steak. i might not be able to come back to buenos aires but the memory of that bife chorizo will always linger.
btw, i went there 2 years ago but i just saw the picture recently so i decided to share it to everyone who might stumble upon my humble blog.