chinois is chinese in french and you can find chinese food almost everywhere. but lately, a lot of chinese restos have been sprawling around the metro. i realized that i had to write something about it in line with my recent chinese food experience. when i was young, the only chinese resto i knew was
Maxim's
...it's my dad's favorite - beef wanton noodles forever!
then i heard of this resto in greenhills called
Le Ching
famous for its shark's fin and rice toppings of chicken and mushroom and pork spareribs. but what makes this resto one of my favorites is their garlicky chili garlic oil. ignore the ambience, i find it similar to the typical hole in the wall dimsum houses i see in pictures and movies. this place is a must especially when you're in greenhills starved by shopping.
next one is
North Park
. i've heard about it from a college friend she said it serves the best yang chow (fried rice) but she said it's in banawe (my dad will not go as far as that). anyway, i then found out that there's a couple of branches in the makati area. my first love from this resto is not their yang chow which i find better when you have it delivered (tip!) but their humongous chicken feet. i believe that they have the best chicken feet among the chinese restos i've tried.
next one is
Super Bowl of China
and
Big Buddha
(Greenbelt Name). nothing special with this resto but they serve good food at pretty reasonable prices plus you can see them almost everywhere (the major shopping areas i mean). this has become my dad's favorite. kung baga walang panama ang Maxim's hehe. i love eating here especially when i crave for chinese food since i'm pretty sure that this is the only place nearby which serves decent chinese cuisine.
this one is my mom's favorite chinese resto...superceding Super Bowl which she adored as well.it's
Causeway
, i've heard so much about this resto that i've been telling my mom about it and when she finally got to eat there i was so envious. they say it's the same resto which serves the best dimsum in Hongkong. all i can say is...all praises to their yummy hakao (shrimp dumplings) this is the best hakaw i've ever tasted super big chunks of shrimp wrapped and steamed perfectly.
and the newest addition to my list is
Luk Yuen
, prices are affordable and the food is good as well.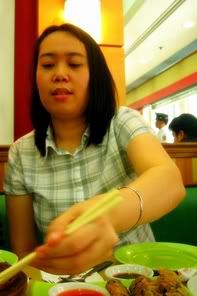 digging into my hakao while it's still hot


but my favorite would be the seafood roll wrapped with nori. because of this i know that i will be a regular patron of this resto. but really you need to take my word for it you oughta try.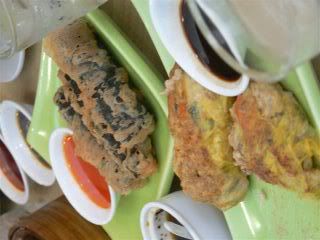 it's the one on upper right



well anyway here's the list of restos and the dishes i recommend.

Le Ching - shark's fin and the rice toppings
Northpark - chicken feet, salted garlic squid, salted fish fried rice
Superbowl of China - i like the birthday noodles and dimsum
Big Buddha - steamed fish with garlic
Causeway - hakaw/hakao!!!, fish with ginger and tausi (something like that)
Mann Hann - tofu/bean curd that's sauteed with something i forgot but it was yummy
Luk Yuen - seafood roll and suckling pig yumyum.

More food tips in my upcoming blogs.