within just a week i had to come to gh twice because of my friend's phone thing. anyway, of course foodies as we are we wanted to try another resto. given the fact that we did not enjoy our first asian food outing. on the same strip as penang is another asian resto named
arya
.
arya, serves particularly persian cuisine, well i think. but basically their dishes come from that side of asia. so we browsed through the menu and our waiter was not that helpful i might say but thankfully we made pretty good choices.
first one is moussaka, i believe that this is a greek dish but they have it there, maybe this is the persian version.the flavor or the tomato flavor to be more specific is quite strong and we didn't like the large pieces of pepper. i love spicy food but not big pieces of pepper.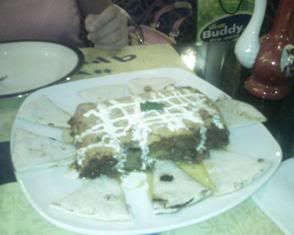 next one is, a beef kebab. i'm not really sure if kebab is the name of this dish since it was ground beef. i'm used to kebabs being chunks of meat. anyway, the ground beef version is good and i was told that the chunky version is great. there's a special way of eating it as we were advised, but basically you ought to put the mashed tomatoes and grilled onions on your pita together with the meat and put on the sauce. the manager/supervisor was really helpful with this dish.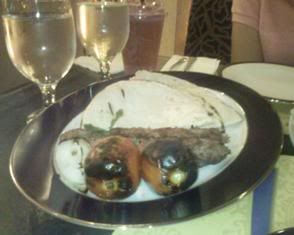 last but not the least, is the ox tongue cooked in a tomato curry sauce. it was served with biryani rice. the curry in the sauce was so mild that i recommend it for non curry lovers because it's a good start to accustom your palate. but the best part is the soft lengua. gheez it simply melts in your mouth. i oh so love this dish.

the actual dish it at the left corner of the pic hehe
overall, my dining experience in arya is something that i'll come back for. it was one of the best meals i've ever had in manila.
here are more pics from a different arya outing.

strawberry shake



chicken and beef kebab...i think



ox brain

more info on
click the city