i know that it's been quite a while since i've posted here and i've had a couple of food adventures that i really want to share but didn't have the time to do so. so here's the first installment.
if there's anything i am adventurous for...that could only be food. so i love trying out new dishes and cuisines, but i have to say that asian food is simply the best. with all the spices and sauces - the food this side of the world are truly palatable.
so one glorious day, as i accompany my friend in greenhills we already started thinking about where we're gonna eat. and without a doubt we said the same thing, "
penang hill
!" as it turns out we've both been itching to try out that place.
unfortunately, with my food restrictions we didn't go too fancy with our orders. and we basically ordered typical asian dishes which you can get at other restos. we got hainanese chicken, which i actually haven't tried could you believe that.
so what's the verdict? aside from the 3 sauces that comes with it, it's your typical white chicken which you can get at most chinese restos (north park would be my choice). but of course we ordered other stuff too. we got roti cannai which is basically a flat bread with a curry dipping sauce. this was such a disappointment, i would have to say that it doesn't come close to banana leaf's. the roti in penang seems to be not well cooked or maybe it was just the dough and the dipping sauce is so so. another dish we tried is a type of stir-fried noodles. i forgot the name of the dish but it's the one with tofu. well another so so dish i might say, lacks flavor and the vitality of other asian stir fried noodles i have tried.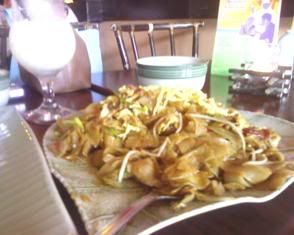 though my experience in penang hill is not that spectacular, i will give this resto another chance if i end up having it as another option. maybe trying out their other dishes
will make come back for more.